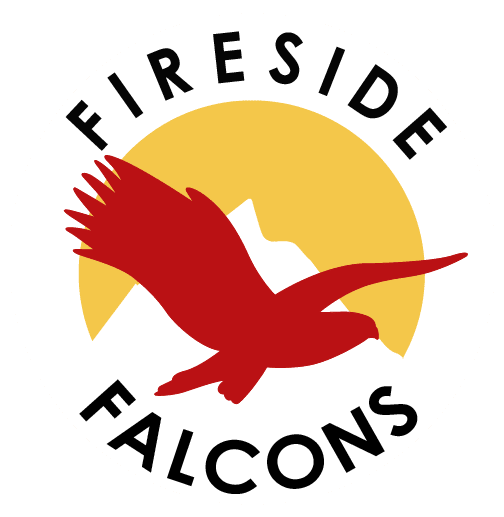 Message from Mrs. Keppler
Dear Fireside Families,
By now, many of you may have heard today's district news that our students will be returning in the new year, beginning on Tuesday, January 5th for grades PK-5. If you wish to learn more, the district will be hosting a Let's Talk episode for parents from 4-5pm on Comcast 22 or livestream at bvsd.org/bv22.
While our staff has done a tremendous job with remote learning, and will continue to do so for families opting to remain online, we sure miss seeing our kids in person and are thrilled our Falcons will once more be under our roof.
As we all eagerly close out 2020, I'd like to extend my sincere appreciation to our families, staff and community for sticking with us with all the changes. The only constant in 2020 was change. While I'm a believer we've learned a lot, and will grow, adapt, and glean lessons from it all, I'm also eager to put the year to rest.
This week, we came together virtually as a staff to close out the year by celebrating some simple joys, sharing family traditions, and painting rocks- yes, rocks, as a staff. Our hope is that our community will join us in this simple rock painting project over break to add to our front entryway garden, creating our own- "Hope Rock Garden". Families may choose to paint an image, inspirational phrase, simple word or something that lifts others in times of need and drop "Hope rocks" off in our garden over break. The idea behind this is for folks to "give and take" within our community contributing and borrowing rocks as the messages or images speak to them.
While the holidays are often a joyous time, we know that they can also be stressful and quite challenging for some. Hence, our staff put together a short video to lift our spirits by sharing what brings them Joy, and hopefully, to remind us all to find a bit of JOY and magic in the holiday season.
View Fireside Staff Joy video!
On behalf of our Fireside Staff, we wish you all a joyous holiday filled with love, health, and a bit of magic.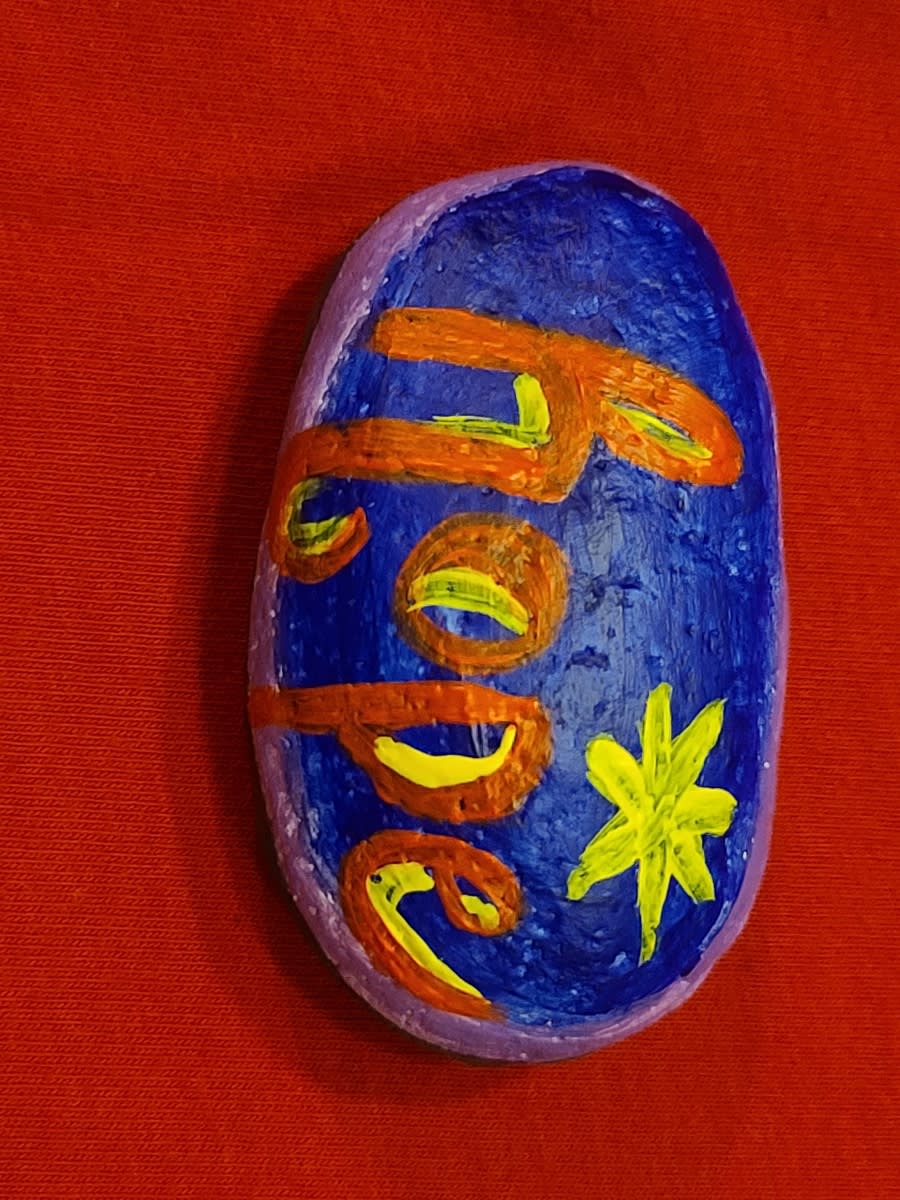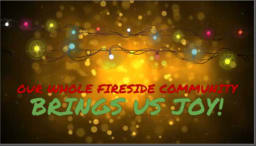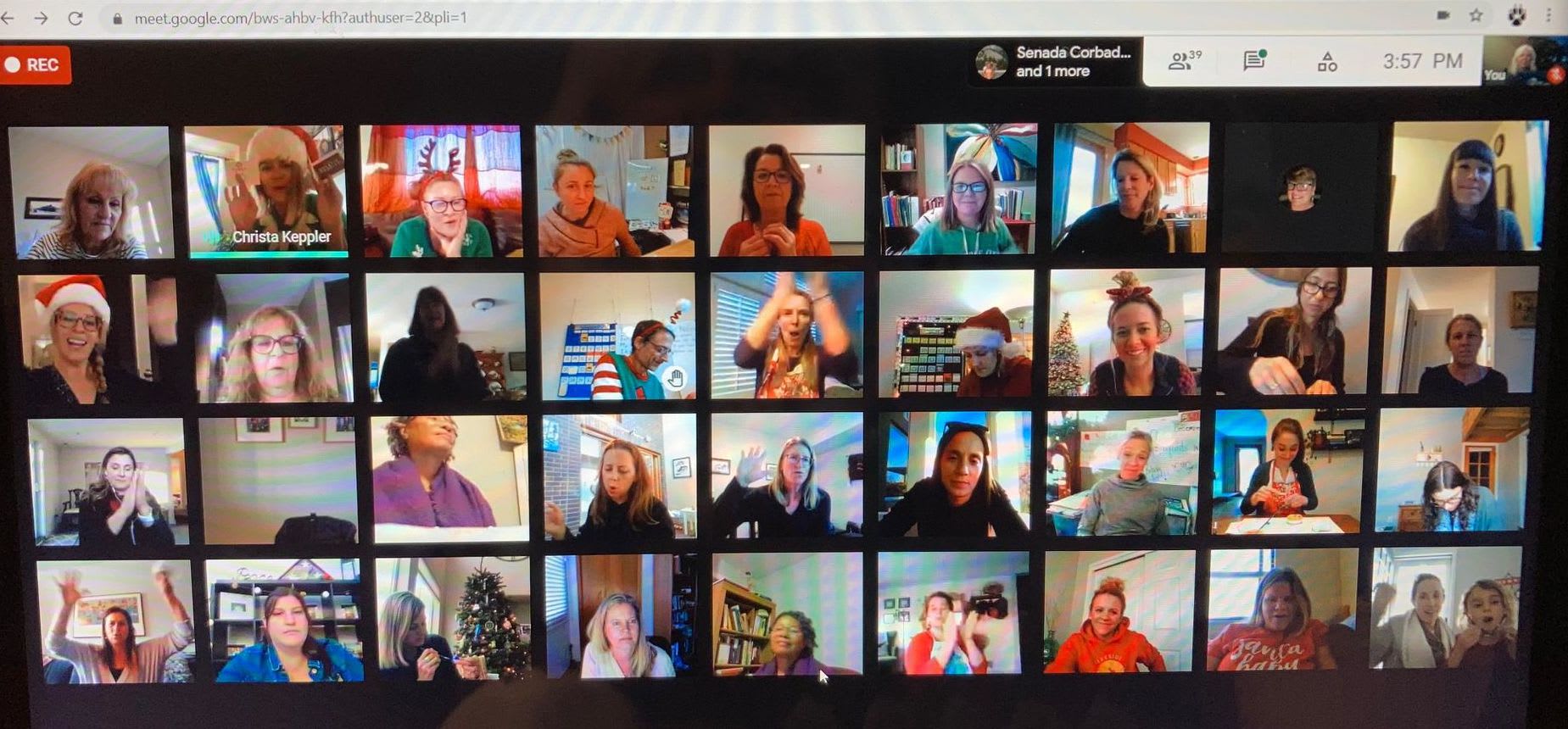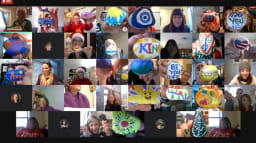 Pride-a-thon Prize Pickup
Congratulations to those lucky Falcons who were selected for $5 gift cards to either Sweet Cow or Assorted Goods, during Pride-A-Thon's random prize drawing! Dilek Eccles has e-mailed the parents/guardians of all winners to arrange pickup/delivery of gift cards. If you have not yet replied to her e-mail, and/or want to confirm how to get your Falcon their prize, please e-mail DilekD@gmail.com. Thank you!
---------------------------------------------------------------------------------------------------------------------------------------------------
PTO Board for 2021-2022
We are in need of new team members to join our amazing PTO Board! You need not be intimidated! There are many positions open for the 2021-2022 school year and now is the PERFECT time to learn more about the PTO Board, our mission, goals and programs. Check out further descriptions of the PTO roles here, as well as FAQs, and fill out an application here. We would love to have you join! If you have any questions, you can contact Dilek Eccles: chairfiresidepto@gmail.com
----------------------------------------------------------------------------------------------------------------------------------------------------
Upcoming PTO Meeting
Come check out what the PTO is up to for the new year! Please join us!
Date: January 27th, 2021
Time: 6:00pm - 7:30pm
Location (virtual): https://meet.google.com/dno-dydq-fnc
----------------------------------------------------------------------------------------------------------------------------------------------------
Do you shop on Amazon and/or at King Soopers?
Get your holiday shopping done AND earn money for Fireside at the same time!
You can earn money for Fireside just by doing your regular shopping! What better time than right before the holidays! It's easy - click HERE!
Popup Snack Bag Giveaway
TODAY, Friday December 18
3:30PM to 4:00PM
Get stocked up for the weekend! Please swing by Fireside to grab a bag of food/snacks provided by Conscious Alliance.
Support for Holiday Toys for Students
Tomorrow, Saturday December 19
2020 Drive Thru Toy Shop. Please see attached flyer for details.
Last Call for Pick Ups Before Winter Break!
If you have not picked up spirit wear, 3rd-5th pictures, or grade level materials teacher's have informed you about earlier this week, please ring Fireside's front doorbell by 3pm, and we will bring it out.
Counselor's Corner (by Molly Kobus)
At Fireside, students receive Social and Emotional lessons from their teachers and Ms. Molly (School Counselor). Teacher's instruction comes from the In Focus curriculum. Tom McSheehy is the author of this curriculum. This week, Mr. McSheehy shared an In Focus Moment that we thought would be powerful for students and parents.
From Tom McSheehy:
December 15 is an important day in my life. It is the day that my dad passed when I was thirteen years old. My most powerful social emotional learning ( SEL) idea for parents was inspired from my dad's death.
I share this idea each year because it is powerful, and because I want every child and adolescent to receive this gift at least once in their life time.
Executive Functioning:
Towards the beginning of the year, we shared this video with parents around executive functioning. We wanted to share it with families again in case you missed it or need a refresher. Executive functioning is a skill that has been coming up again and again, especially during home learning. In this video, Leslie Gaiser, a BVSD Instructional Specialist shared the top 10 strategies for supporting our students with their executive functioning skills during home learning.
Please know that you are not on this journey alone. If you are still struggling to support your child with these skills, reach out to Molly Kobus (School Counselor, molly.kobus@bvsd.org). Molly can work with you student or support you as a parent as you are navigating this home learning process.
Space Available Busing Returns - 2021
Good news! Even with limited capacity under COVID restrictions, some of our bus routes have available capacity. Therefore, the district is offering Space Available Busing for Kindergarten through 8th-grade routes for the second semester of the 2020-21 school year. Students who are not eligible to ride the bus under board policy EEA, may apply to ride one of our established routes via the Space Available Application found on Infinite Campus. Please note, no new runs or stops will be created to accommodate space available requests. More details can be found in our Space Available Notice to Families.
Applications open Dec. 16 at 8 a.m.
Chromebook Devices/Repairs Update
Need IT (technology) help, a device, or have a device that needs to be repaired? Contact the Service Desk at 720-561-HELP(4357) or it@bvsd.org
All distribution and repairs are now handled by the district (not individual schools).
On December 14th, Fireside's School Accountability Committee ("SAC") attended a financial presentation from BVSD CFO, Bill Sutter. This was a joint meeting organized with Coal Creek Elementary SAC. Mr. Sutter delivered a presentation on BVSD's budget development for the current and upcoming fiscal years. Enrollment decline along with state budget cuts provided a unique challenge for the current fiscal year and next year's 21/22 budget review. However, due to the District's ability to utilize reserves, the CARES Act additional funding, and recent ballot activity, the District will be able to sustain spending for both the current year and next year's budgets; albeit, with limited options for any new or additional areas. The presentation was recorded and can viewed here along with the slideshow presentation here.
Raleigh Martin, Quinn McNally, Dylan Kim, Isabelle St Ores, Damian Gorsevski, Parker Clauset, Adrian Hernandez, Jonas Reid, Laila Dietzel, & Maya Sieveke.