Stop Bullying. It's Cool to be Kind
There is no doubt that bullying is and has been a worldwide problem for generations. That is why Boulder Valley School District is stepping up to do everything they can to stop bullying once and for all.
"Our goal is to teach students, to help them grow and become independent, and to get them ready for the world after school," said Sarina Gonzales, Centaurus High School Counselor. "Ultimately, we need to teach students, and we can't teach students if they don't feel safe."
F E A T U R E D S T O R I E S
BVSD leads the way in Colorado with universal dyslexia screening
Boulder Valley School District broke new ground last year, becoming the first school district in Colorado to announce plans to test every kindergartner for dyslexia. Previously, BVSD assessed overall reading skills on interim reading assessments, which don't always catch the characteristics of dyslexia.
"You have to take every kid and see exactly what they need'
Students learn at their own pace and require various levels of support. Honing in on each individual student's needs is a key component of the All Together for All Students Strategic Plan. Schools throughout the district have taken the lead in creating new programs and strategies to address those students that may be struggling.
All Together for All Students. And the Planet
The new BVSD Sustainability Action Plan launching this year is building on the work that has happened over the last three decades.
Tackling the issues around climate change and environmental sustainability can't happen by just one person or one school. It will take our whole community working towards common goals.
D I S T R I C T A N N O U N C E M E N T S
The Boulder Valley School District believes in providing our students with the ability to attend the school that best fits their needs, as long as there is space available. During our open enrollment period, which runs from November 1, 2021 to January 5, 2021 at 4:00p.m., families may apply to a school of their choice for the 2022-23 school year. Learn more about open enrollment
Competitions and Contests in BVSD are rewarding and positive learning experiences for our students, teachers and parents. There are teams to join, projects to build, books to be read and practices to be held before the big events happen in the Spring. Learn more about these student opportunities
Winter (weather) is here: BVSD is prepared for snow
The turning color of the leaves and cooling temperatures are sure signs that Fall is here. Before we know it, snow and ice are certain to return too – and Boulder Valley School District is ready. An entire team at the district is prepared to monitor snowstorms, evaluate road conditions, shovel sidewalks, plow parking lots and ultimately make the big decision to delay or close schools, if necessary. Learn more about weather delays and closures
P H O T O O F T H E M O N T H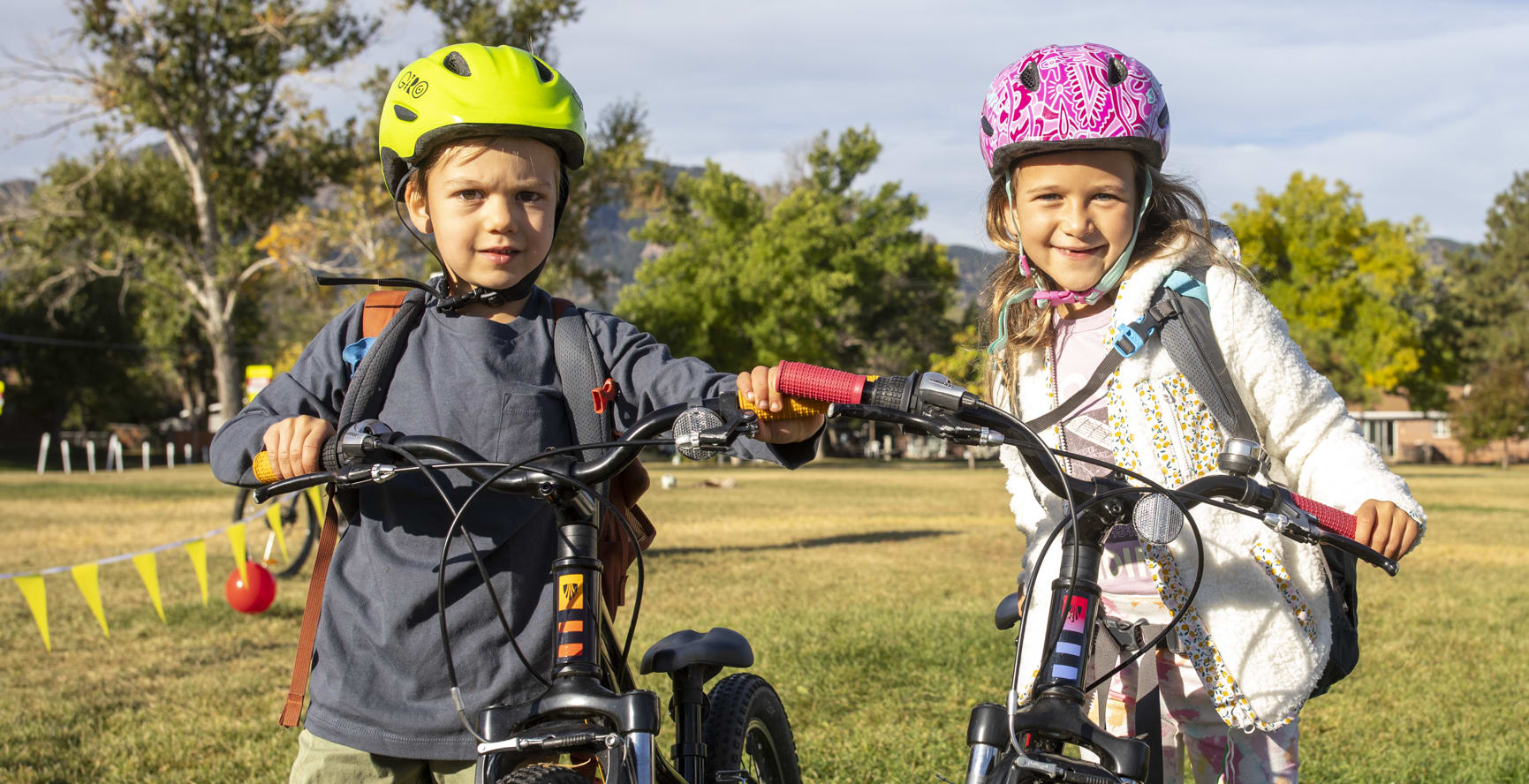 Walk/Bike to School Day
It was a beautiful day for Walk/Bike to School Day on October 6! BVSD had 27 celebrations across the district. Thank you to all of our students and families who walk and rode to school that day.